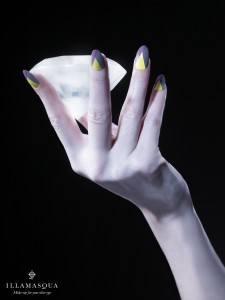 Un petit message en speed pour vous parler d'un communiqué que j'ai reçu il y a maintenant quelques jours.
Illamasqua organise THE concours pour les fans de vernis à ongles.
En fait, il s'agit de devenir créatif à notre tour et de donner en 50 mots ou moins la description du vernis à ongle de nos rêves et de fournir une image ou une photo qui représente cette grande idée.
Pas évident hein ? Moi je commence à y réfléchir, mais c'est vraiment très dur. Je vous avoue que j'ai du mal à me dire ce que serait le vernis à ongles idéal pour moi.
Bref, mais le plus intéressant, c'est ce qu'il y a à gagner et pour ça, je vais vous copier/coller le texte original : Two winners will see their dream colour created and sold exclusively at Illamasqua.com and Selfridges in London, Manchester Trafford and Birmingham from October 2010. In addition, they'll receive a bottle of their winning colour before anybody else!
Alors, c'est pas de la balle ça? The classe ultime ?
Et en plus tout le monde peut participer parce que c'est ouvert internationalement. Franchement, moi je vous dis, allez-y quoi.
Comment participer ? Attendez, je vous copie/colle le bazar :
The rules: In 50 words or less, submit a description of your dream colour and the thinking behind it – please include pictures to illustrate your inspiration if possible.
Entries must be submitted in one of the following three ways, no later than 14th March 2010:
Via email: competition@illamasqua.com
Via blog post: email the link to competition@illamasqua.com
Via mail:
NAIL COMPETITION
c/o Illamasqua
6-8 Amwell St
London
EC1R 1UQ
One entry per person. Competition is open to entrants globally.
Bon voilà, je vous dis bonne chance hein ! (et oui, j'imagine qu'il faut donner sa description en anglais, et bah ça vous fera de l'entraînement, voilà tout!).