Je pense qu'on peut appeler cela un mini-smoky car je suis partie d'une base grasse noire… Le résultat est beaucoup plus intense étant donné que le fard vert que j'ai utilisé est quand même relativement clair. Mais je sais pas vous, mais moi, j'ai trouvé le résultat à tomber. Et pourtant, avant de le faire, je n'étais pas certaine de ce que j'allais avoir comme résultat.
Bon évidemment, encore une fois, je ne me suis pas embêtée à aller chercher des fards ailleurs, j'ai encore utilisé la Book of Shadows II d'Urban Decay :p On se refait pas hein.
Yeux
Urban Decay 24/7 Glide-On Eye Zero (crayon utilisé pour la base grasse du maquillage)
Urban Decay Book Of Shadows Vol.II
Dans celui-ci j'ai utilisé les fards :
Fard Homegrown (un sublime vert)
Fard Misdemeanor (un bleu-vert foncé presque gris)
Pinceau
Sephora Paupière n°20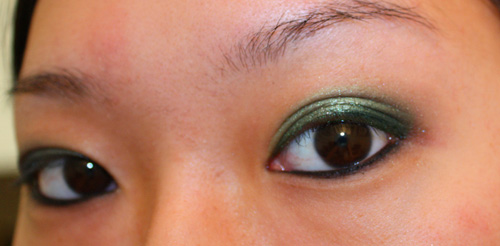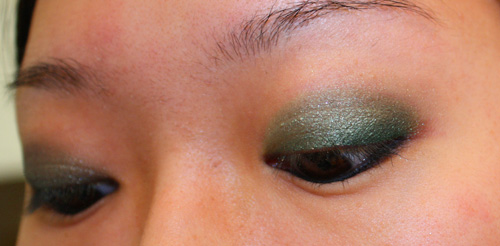 Au niveau de la procédure, encore plus simple comme je n'ai utilisé que deux couleurs de fards :
1) application du crayon Zero de façon assez grossière autour de l'oeil.
2) estompage léger du crayon
3) application du fard Homegrown sur toute la paupière mobile
4) application du fard Misdemeanor en tout petit outer V
5) crayon Zero sur la waterline
Et voilà, rien de plus simple, non ?